INTRODUCTION
Farmers' field day was organized as part of the OCP Initiative to validate the new tomato specific fertilizer formulation developed by NIHORT and IAR&T. This was done to provide a platform for farmers to interact and evaluate the performance of the new fertilizer; create awareness and promote the new OCP tomato/pepper fertilizer blend while encouraging good agricultural practices among farmers.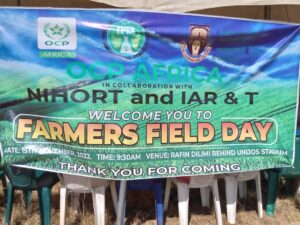 Banner used for the occasion
OPENING: After a brief introduction of guests, there was an opening prayer led by Adamu Mohd Bojude a farmer from Toro LGA in Bauchi state.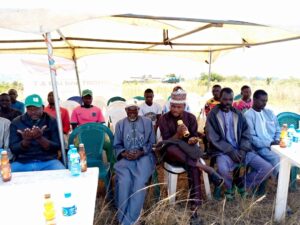 Opening prayer at the occasion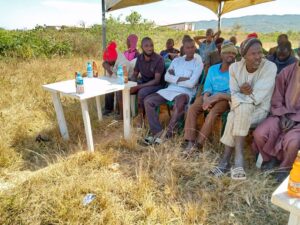 Cross section of participants
ADDRESS AND MESSAGES: Messages were taken from participants such as Farmers' association chairmen, Agricultural Development Programme (ADP) staff, among others. Mallam Abubakar Musa, one farmer on whose plot the trials was carried out in Plateau State, testified to the quality of OCP tomato/pepper specific fertilizer. He solicited for quick release of the fertilizers to the market. Mallam  Mato, the Chairman of the Vegetable Farmers Association, talked about the need for the new fertilizer to be readily available for sale and purchase by Tomato/Pepper farmers. Mr. Pandok of Plateau ADP and Kabir Babangona from Kanam LGA of Plateau State also spoke about the efficacy of the fertilizers and requested its availability in the market at an affordable price.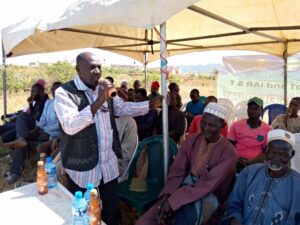 Address by Kabir Babangona, a farmer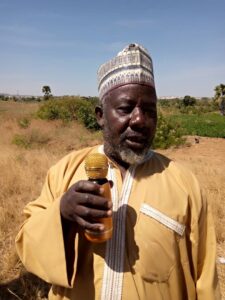 Mal. Mato : Chairman of vegetable farmers Association addressing the participants
Mr Nasir Usman (NIHORT) and Mr Pandok (ADP) during the occasion.
FIELD VISIT: There was a visit to the field, to enable participants to have a full view of the trial field. This also gave them the opportunity to compare the performance of the OCP Regional and National fertilizer formulations with the conventional NPK 15:15:15 generic fertilizer, which has been the main type of inorganic fertilizers used for soil fertility management in Nigerian agriculture.
Harvesting from plot with no fertilizer application during field visit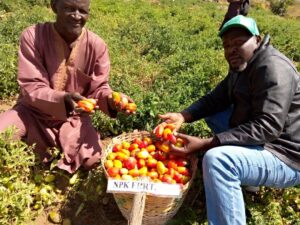 Mallam Abubakar Musa (Farmer) and Mr. Nasir Usman displaying tomato fruit harvested from plots under NPK fertilizers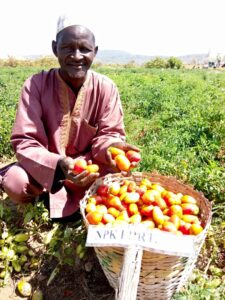 Fruits from plot with NPK fertilizer application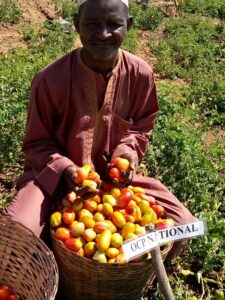 Farmers displaying fruits from OCP National experimental plot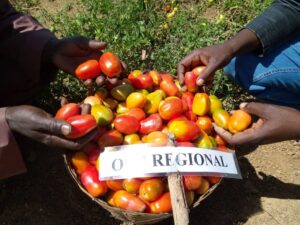 Fruits from OCP regional experimental plot
QUESTION AND ANSWER SESSION: Question and answer session followed the field visit. This gave room for further interaction with the host farmer and other agricultural experts present to further educate the farmers on the efficacy of the fertilizers and good agricultural practices.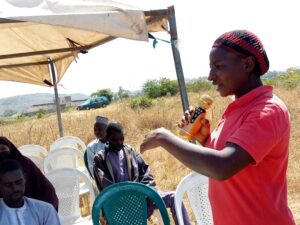 Comments from a female farmer at the occasion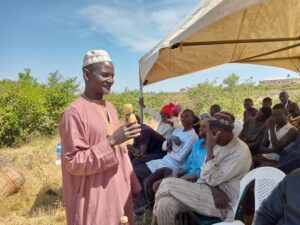 Mallam Abubakar attesting to the efficacy of the fertilizers
CONCLUSION: The programme ended after the completion of the activities for the day while refreshment was served.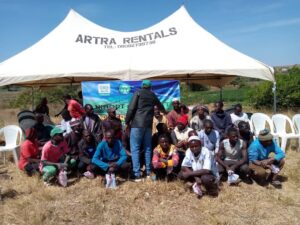 Group photograph with some farmers after the occasion